I've always been obsessed with Hong Kong Dramas,
ever since I was young.
That's why I've always wanted to move to Hong Kong...
Though I don't plan on moving there anymore, what hasn't changed
is my love for the city,
for the dramas, and
for the beautiful actors and actresses.
| | |
| --- | --- |
| I have missed out on the 2013 TVB Anniversary Awards as I was overseas during the time it was broadcasted, but I'm still highly curious as to what they wore last year. | So I did some searching to satisfy my re-born obsession with Hong Kong dramas and actresses. My favourites are Myolie Wu, Nancy Wu and Kate Tsui, but also Linda Chung. |
The dresses at the anniversary award are so much better!
| | |
| --- | --- |
| Courtesy to Because I'm Fabulous, here are some photos of the actresses and what they wore, these include: Linda Chung, Nancy Wu, Myolie Wu and Niki Chow. I must say, I am thoroughly disappointed by their choices of dresses/suits. The only one I find myself loving is Myolie. She's got so much confidence, I just love her as a person and a suit is just so powerful. Love! | Her makeup is nice, but the nude lips did not come across as the correct shade on camera, it completely washed her out. Nancy Wu would be my second choice, her makeup is better but her dress makes her look pregnant. Next would be Linda, nice lips but not eyes, nothing amazing. And that hair, no. Dress is pretty.. but nothing red-carpet-awards-ceremony-worthy. |
Linda Chung & Ruco Chan
They matched well which is nice.
Linda's boring but pretty dress is spiced up with Ruco's fancy suit.
Eliza Sam & Him Law
Eh. Nothing good here.
Elaine Yiu & Raymond Wong
Not a fan of the dress. Makeup and hair is nice on Elaine,
her complete look seems like she stepped out from a Korean MV.
Tavia Yeung & Kenneth Ma
Tavia always wears dresses which ages her, and hair as well.
I can see she's going for the old hollywood elegance approach but that bow is just tacky.
I love her so much as an actress, shame I can't feel the same towards her style.
Myolie Wu & Wayne Lai
Even the closeup doesn't help her makeup. Like the suit, not the maleup.
Suit could do without the weird black patches. Hair is acceptable.
Niki Chow & Bosco Wong
No please. Nice makeup and hair, not the crazy outfit
Nancy Wu & Vincent Wong
I hope she's pregnant, would look really nice for a pregnant lady
Kate Tsui & Ron Ng
Speechless. Not in a good way.
Kate Tsui not looking good, not bad BAD. But not good at all.
Aged too much with that hair. Dress is nice and makeup too.
Just not all together with that hair.
Kristal Tin & Edwin Siu
A lot of people criticised her dress for not fitting properly at her chest.
I liked it before I noticed that part. She won the Best Actress Award,
and it was so emotional. Congrats to her. Thankfully she didn't wear
this to accept the award. See her accept the award at the end.
The following are courtesy to
Courtesy to
Xin MSN Entertainment
Kate Tsui
'Old'
Sharon Chan
'Tacky'
Carol Cheng
'Elegant'
I like how she approached an old elegance, fitting her age.
Sire Ma
This is gorgeous!! Simple but with details.
Grace Wong & Oscar Leung
"Eh. No."
It turns out that the award show was separate to the anniversary show. I found that at anniversary show, the dresses were a lot more amazing. Courtesy to
My Favorite TVB
for the following.
Nancy Wu, such a beautiful dress!!
My favourite of the night!!! Love the colour, the texture, everything!! WOWZA!
Niki Chow
I love this dress too, not as much as Nancy's but I love it! Second favourite
Linda Chung
Not the hair. NO. The dress is alright. NOT the makeup,
I don't understand the dark eye shadow under the eyes.
Myolie so pretty! Even better than the suit.
Kristal Tin & Kate Tsui
Kate's is conflicting. I prefer the awards show dress in 'wow' factor but this one is styled more cohesively.
I don't like the bottom of the dress, how shapeless it is, but the top is beautiful.
Myolie Wu
Beautiful dress! Hair is alright. Nice makeup.
Nothing wow except for the dress.
Eliza Sam
Too cutesy. Not a fan.
Liza Wang
Fits her age, beautiful and elegant.
ElaineYiu
Nice, but high sheer slits on the side. Not sure, it's the WOW factor...
I'm conflicted about this. Something is off. I think it's the hair...
and the weird orange.
This is so adorable!!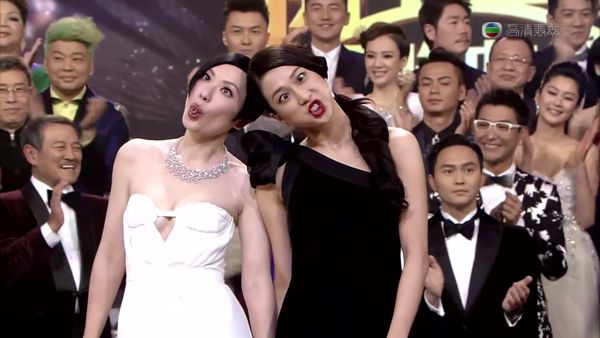 For those who have also missed it [The Anniversary Show], here's the full videos, YAY!





And a short snippet of the TVB Best Actress and Actor from the awards ceremony.