(Love this post? Visit
The Faceless Style
)
It seems that in this year everyone is getting engaged (including fellow bloggers
Style Suzi
and
Cheesie
) or getting married (including my cousin!). Must be a good year! Just to drop a few big names they are:
Married:
Blake Lively, Anne Hathaway, Natalie Portman, Drew Barrymore
Engaged:
Jennifer Aniston, Mylie Cyrus, Avril Lavigne, Angelina Jolie, Kiera Knightley, Amber Rose, Jessica Biel
So time to get in the same mood as the celebrities and look at what girls love looking at- Wedding gowns! I am in love with details so who is more creative with this than these two amazing designers:
Elie Saab: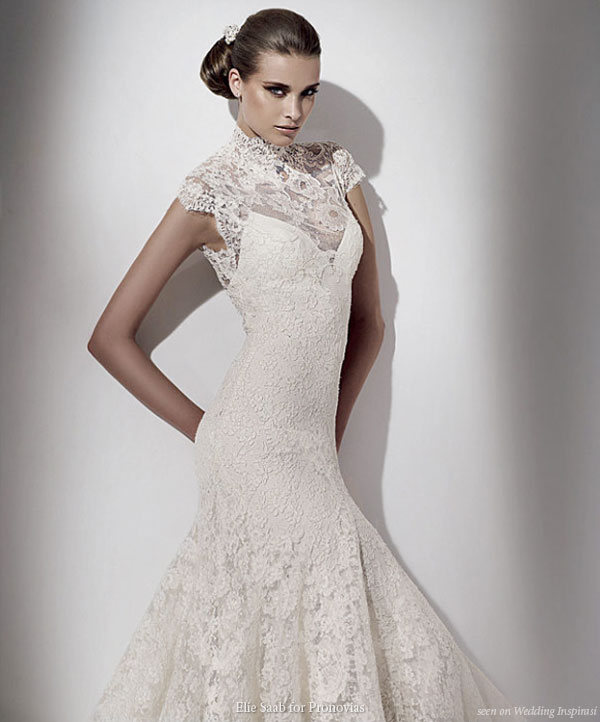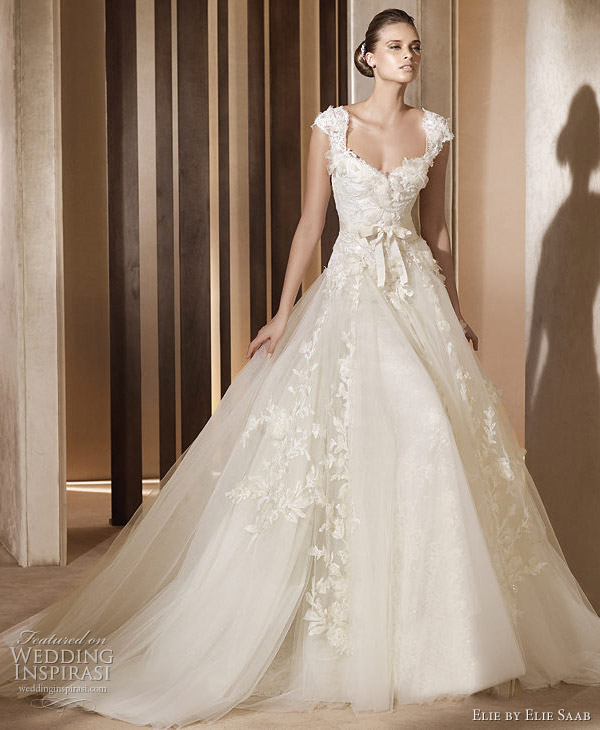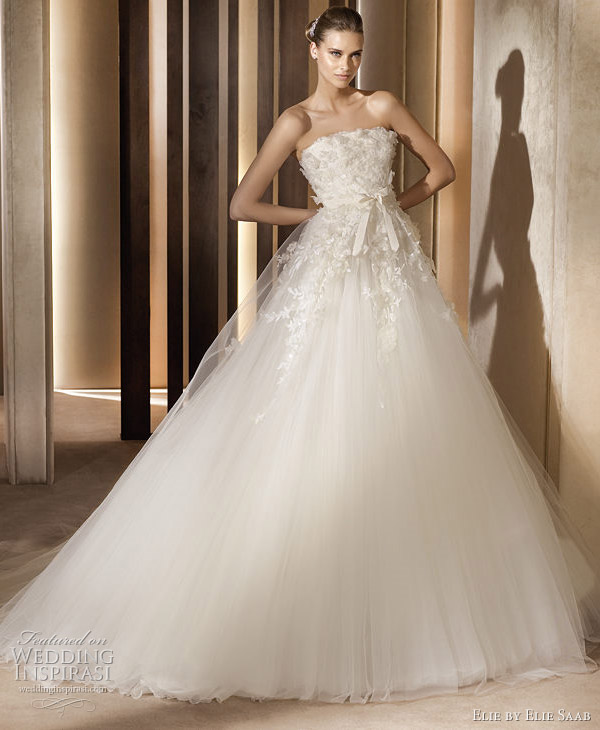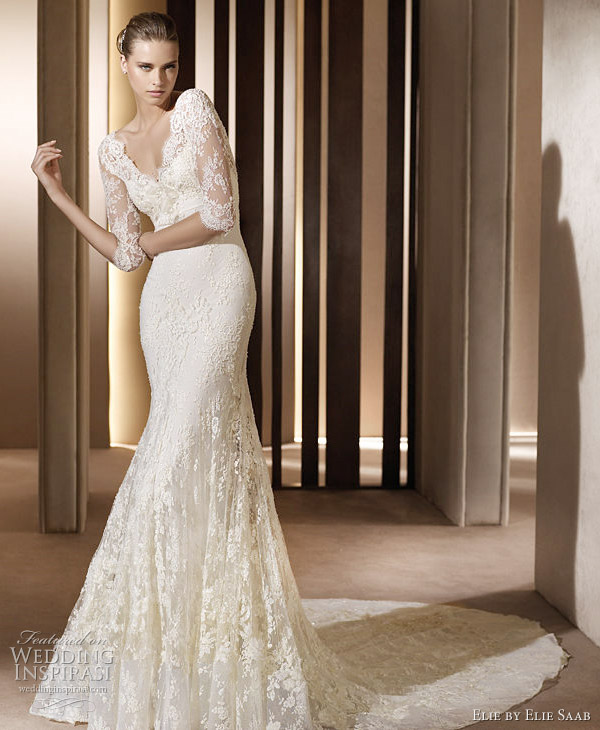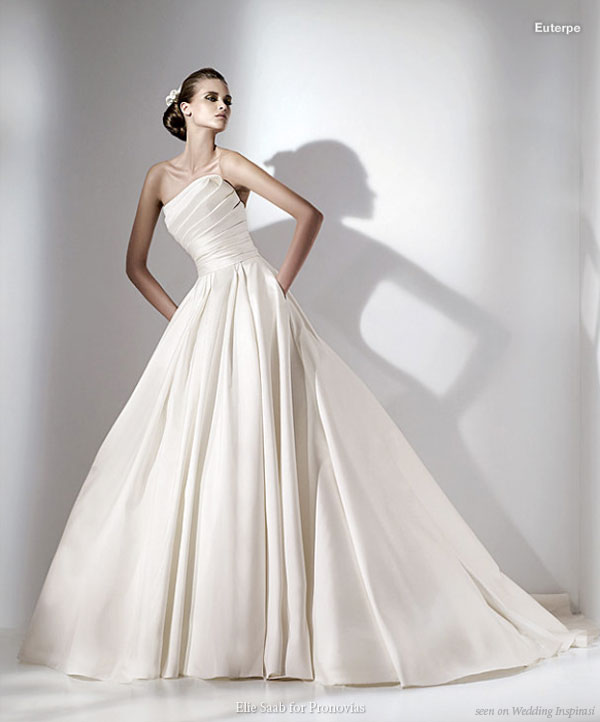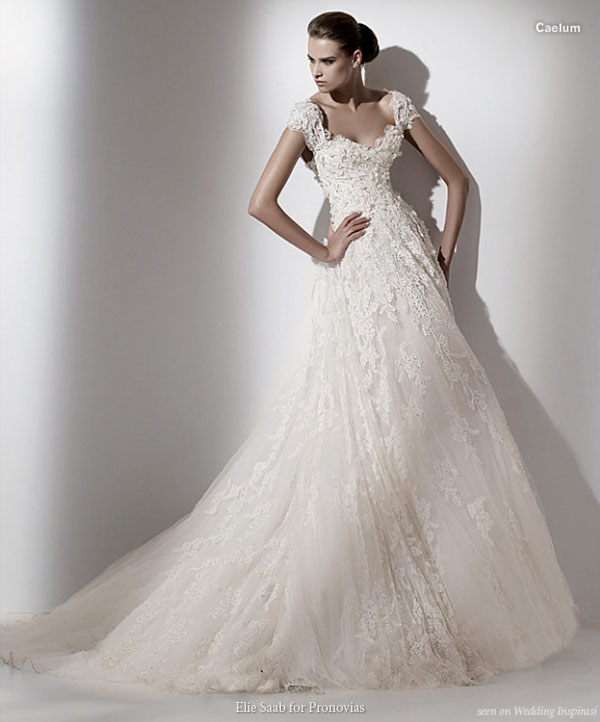 Zuhair Murad: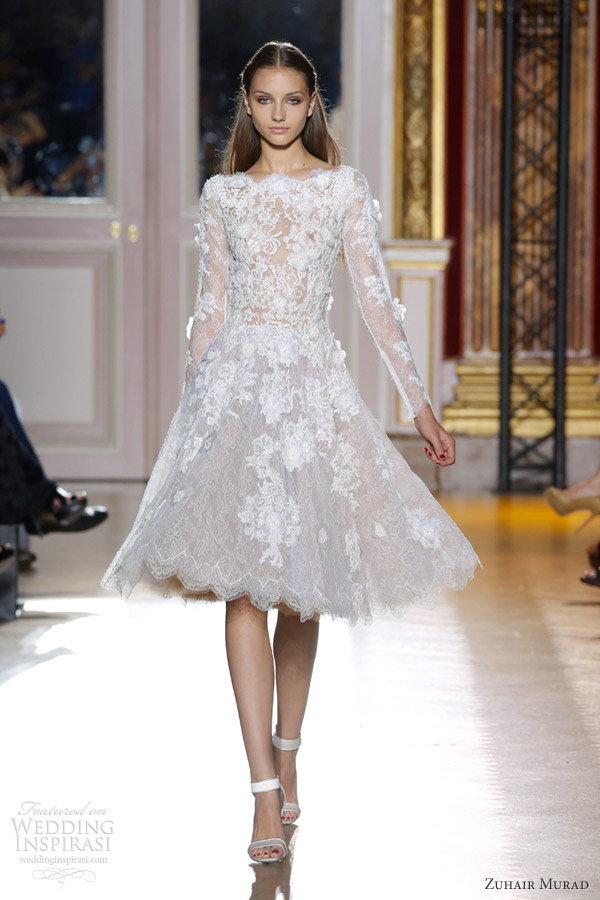 Love a short dress to dance in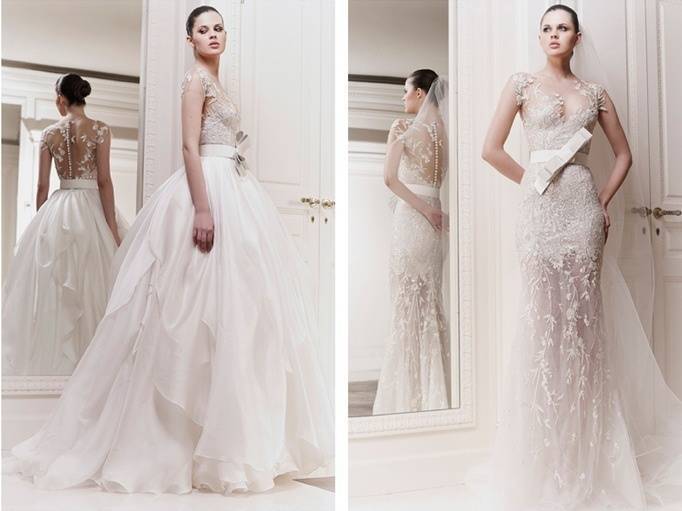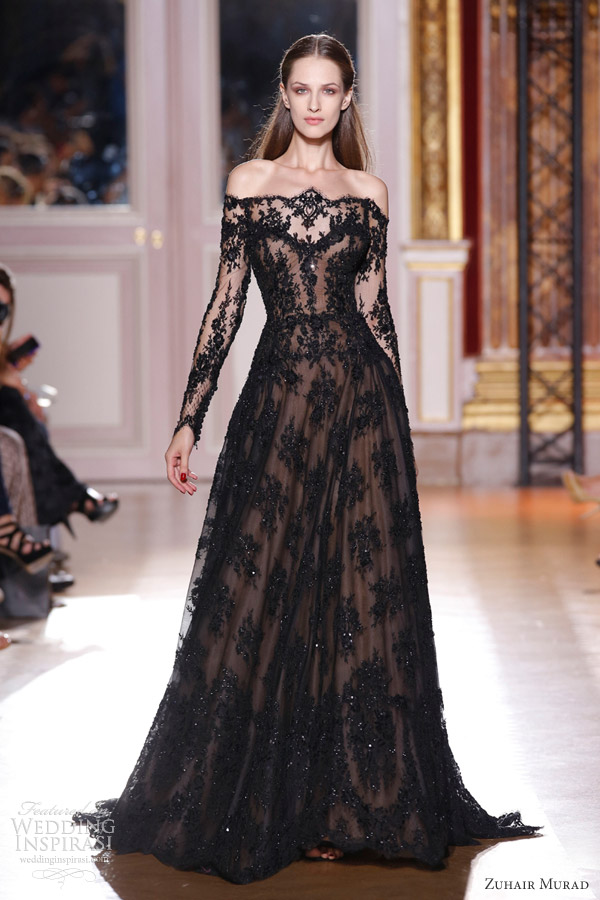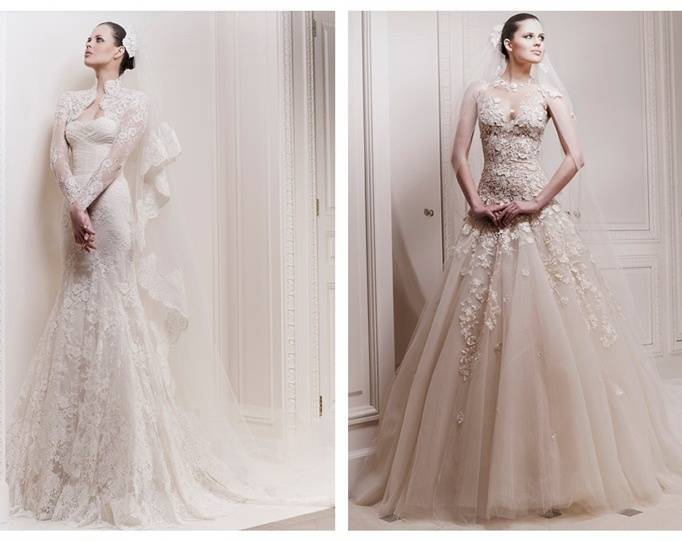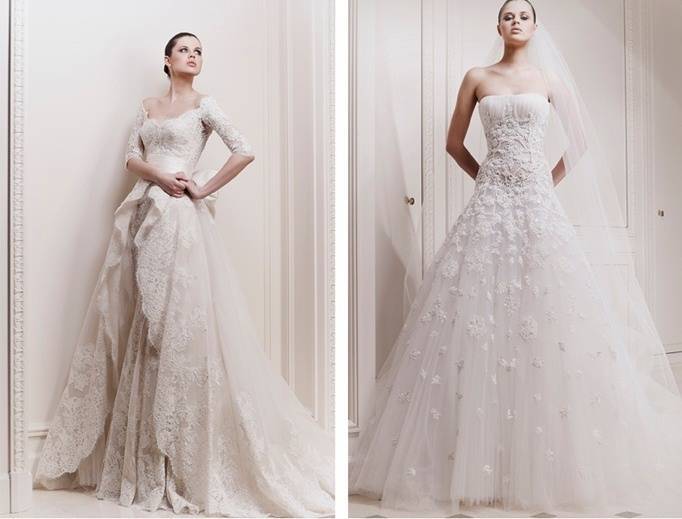 Aire Barcelona:
A less expensive wedding gowns designer with similar detailing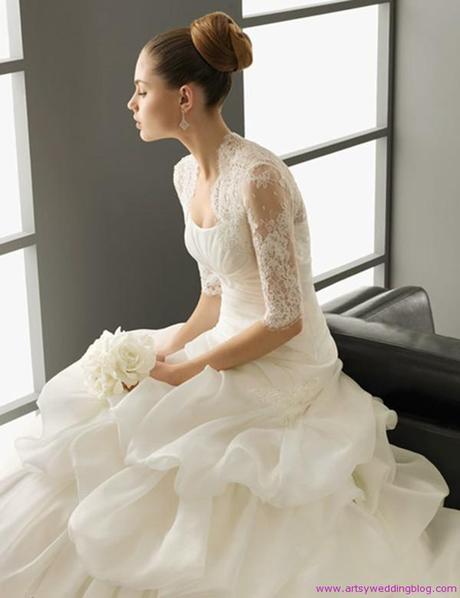 The difference in pricing does show, Zuhair Murad and Elie Saab's wedding gowns have such intricate designs for their lace whilst Aire Barcelona gowns seem to have the 'normal' lace patterns.
My favourite, in terms of wedding gowns (not red carpet) will have to be Elie Saab, his designs are just so elegant and feminine, any of his Haute Couture gowns in white will be perfect for a wedding. Zuhair Murad seems to take detail to the next level, to a whole new level out of this world which makes his gowns more suitable for red carpets. Aire Barcelona will be perfect for the brides who don't care so much about designer or not designer and prefer to spend the extra few thousand on something more useful in their life whilst still looking extremely elegant and feminine.
Another gown I really love though, with a different style (less detailing and lace) is this gown by
Vivienne Westwood: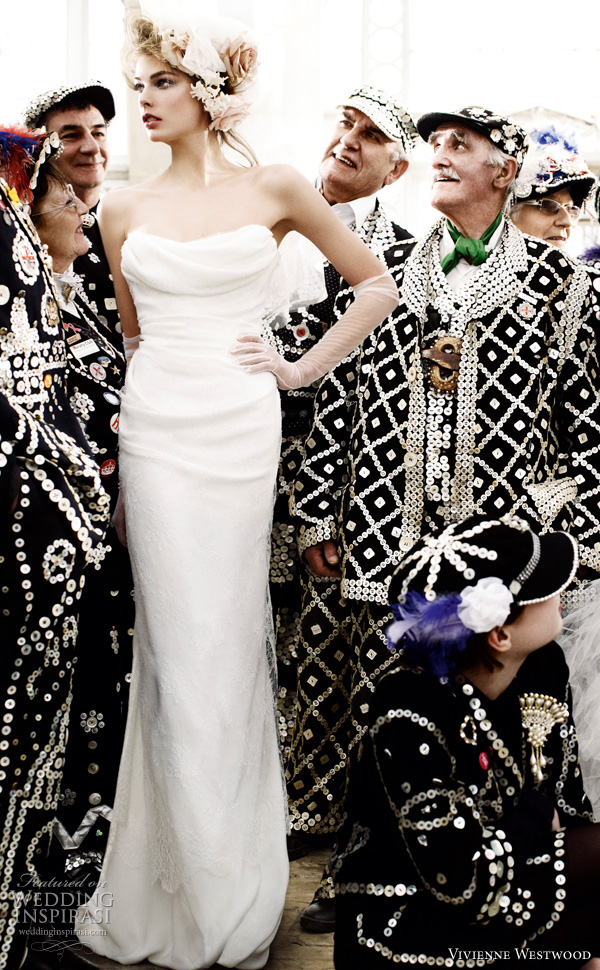 Haha, when I get married, I want three dresses. They don't all have to be designer. But I want one long dramatic white dress like the one above with an extremely long train though (to walk down the aisle), one simple classy long dress, probably the exact one above, without a train (for the reception), and one short white dress (for the after-party/dancing). I really want to have worn a princess gown at least once in my life but they seem to make women look frumpy and swollen up by all the material so maybe I'll just wear it for my wedding photos (with the help of the professional angles to avoid the frumpiness) and wear skin hugging gowns (which makes women look very statuesque and elegant) for the actual wedding.
*Wait, I forgot, in Chinese culture we brides need to wear red, as in a red 'cheongsam'.
Maybe a modern twist to the cheongsam and just take the Chinese phoenix and dragon embroidery like these few here?
A different type of modern twist since it takes lace from western cultures but cutting from Chinese culture to produce this dress above. So beautiful! And wow and look at that back!
This one above is my
favourite
, my second
favourite
is the the dress with the modern twist (with the lace)
For the cheongsam, I'd definitely want a straight floor length one and probably as traditional as possible (with the high neck) since I'd be wearing 3 non-traditional dresses and should respect my culture by at least wearing one very traditional one. So yes, I'd be choosing the cheongsam just above, the embroidery is stunning! (Very body hugging too which I like)
And when I was googling, I found this: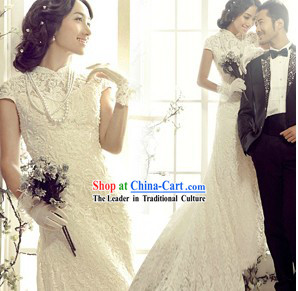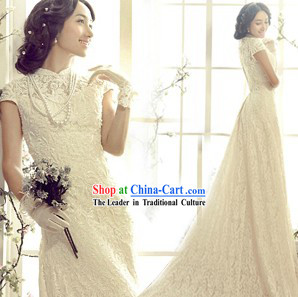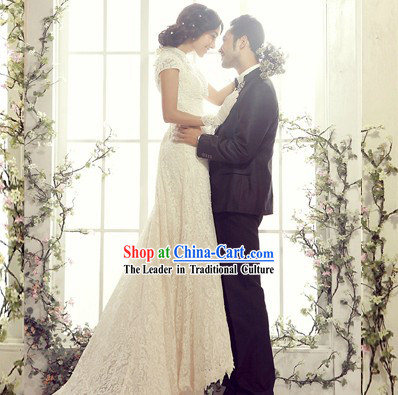 This gown is beautiful, makes her look very statuesque (or maybe it's only because she is naturally tall and hence naturally statuesque). I'd love a wedding gown like this one for the aisle with a very long train since the lace makes it quite dramatic. But on a different note, I wanted to point out the height difference between the bride and groom. It just doesn't look right for me (doesn't mean they won't be happy and have every day filled with joy and bliss but...) that's why I must find a boyfriend who is 1.80m so I can wear heels and look statuesque without making him look like... like a dwarf.
There, I've basically planned out my wedding already, haha, funny because I haven't even had my first boyfriend yet. And wow, such useful research. When I really do get married one day I must remember to come back to this post for ideas.
UPDATE:
Just read some news about Chinese model Kathy Chow (HK Actress Niki Chow's older sister) got married recently in an Elie Saab dress valued at HK$500,000! Which is AUD$62,624! Didn't know it was that expensive! Her one doesn't even look very Elie Saab.
She wore 3 dresses too
The Elie Saab one above and these two:
Instead of a cheongsam she went for a less traditional red dress. But still similar direction as I was going.
Plus her wedding was held in France! Ahhhhhh, my dream wedding with 3 dresses in France! (except she married a wealthy French man, not my dream partner, haha)